A decentralized VPN Client utilizing the Sentinel Blockchain
FIAT GATEWAY
Meile is making decentralized VPN access even easier with the introduction of our FIAT gateway. Meile processes basic credit card information through Stripe, and upon a successful charge, the selected amount of DVPN (fuel) will be sent to your Meile Wallet. Privacy is preserved and no identifiable information is stored on our end, other than a Transaction ID and a Wallet address.
PRE-RELEASE (unsigned)

Note: When installing the DMG for OS X. Open the DMG and drag the Meile icon to your Desktop or the Applications folder. The OS X App Bundles have now been notarized and signed with an Apple Developer key. Note: the Apple Intel is UNSIGNED. So use control+click to open it.
Note: the Virtual Machine builds are specific to users running Kali Linux or other debian based variants in a vritual machine.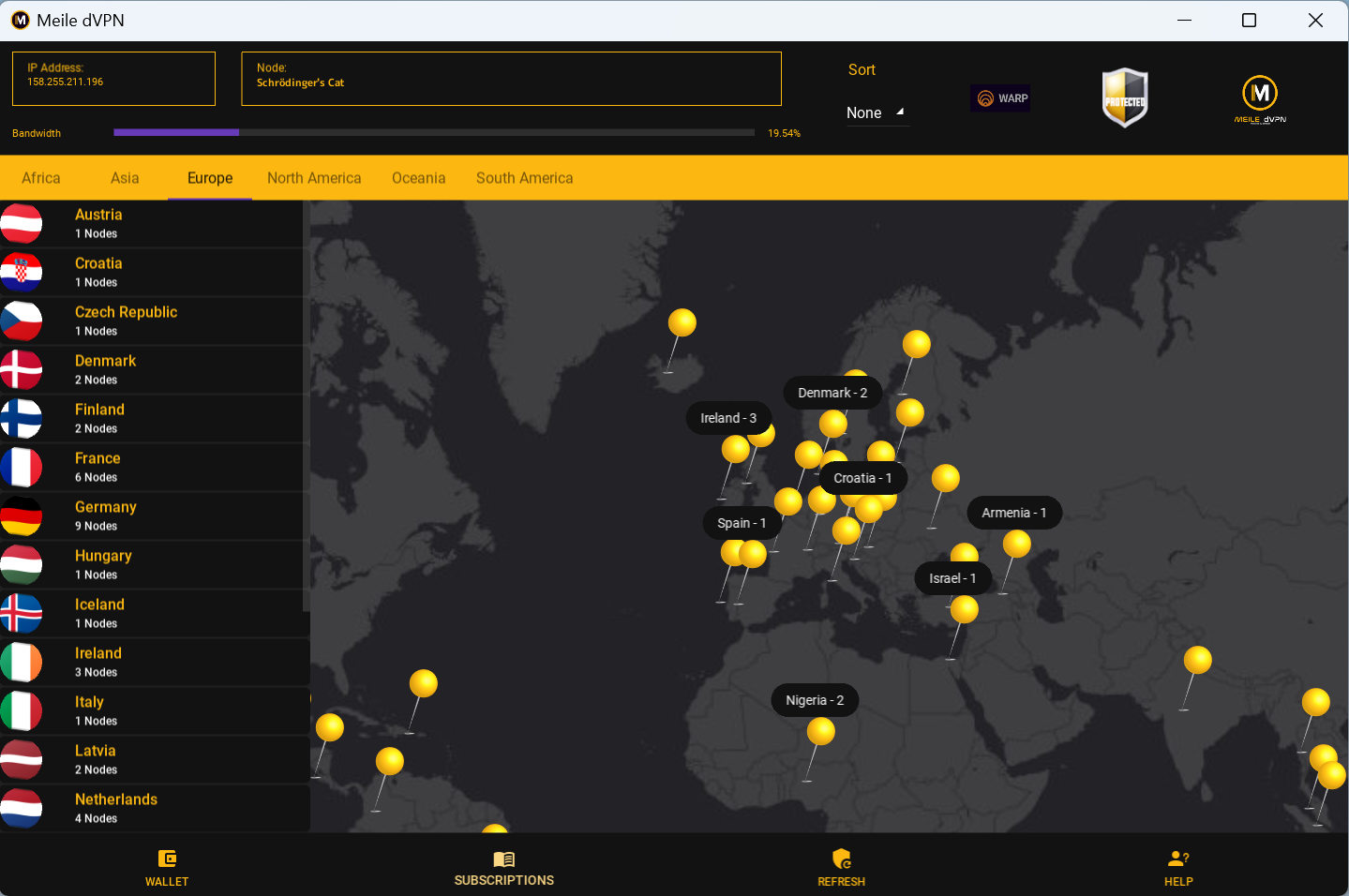 What's New in 1.6.3:
🛡 v2ray integration
🛡 tun2socks for TCP packet routing
🛡 Redesigned Main Screen
🛡 Subscription Nav Bar Icon/Screen
🛡 USD Price of Subscription in dialog
🛡 WireGuard forceful checking
🛡 Expanded Map
🛡 Lightning fast DNS resolver checks

UI/UX Design
Stylish and easy to use interface. Classic tab themed, with extra capabilities.

Wallet
Fully loaded with a wallet displaying IBC tokens of DVPN, OSMO, SCRT, ATOM, DEC. You'll always know what to pay with

Portable
Available for Linux and OS X and future plans to port Meile to Android, iOS, and Windows. The python core, with KVLang UI, is ultra portable and runs on every platform.
Super fast refreshing
DVPN node filtering
WIth Meile's Latency refreshing capabilities, the user can decide to load more nodes (higher latency), or show only the super fast connection nodes (low latency). This enables users to view the mega list of nodes, or scale it down for ultra fast connections.
SIGN UP FOR OUR ANALYTICS DASHBOARD. IT'S FREE!